Everrati, masters of the EV Porsche, have turned to a race car classic. It's a riot to drive.
The classic EV conversion business is booming. Shops removing oily pistons and throwing batteries in their place have been around for a while, giving old cars a new lease on life. A while back, UK startup Everrati made waves by fully restoring a 964 911, swapping out its sainted flat six and popping electricity in its place. Now it's done something similar to a GT40.
While Porsche has made over a million 911s, Ford didn't build that many GT40s, so to hear the name associated with an EV swap might send chills down your spine. Fear not, because the GT40 used isn't an original, but one made by Superformance. Superformance builds continuation cars under license, so they still come with a GT40 VIN, but they've not been anywhere near the sixties. The deal here will be, when the car's development is finished, that you can ask for a V8-powered GT40 continuation, or you can ask for it to be given the Everrati treatment. Diversification in continuation.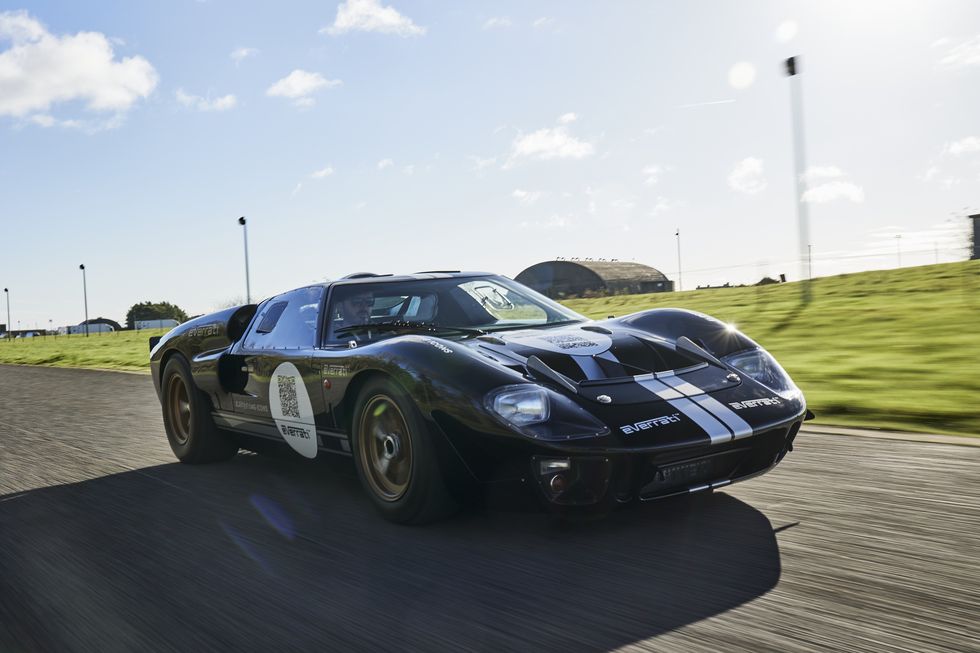 Everrati's car has been in development for ages, and will remain so for a while. Rather than simply throw some electrons in the back and hope, the company prefers to do full scale OEM testing on each of its powertrains to make sure they work in any situation. Hot weather, cold weather, stress testing, you name it. Considering the cost of entry, in the case of the GT40 £440,000 plus local taxes ($540,000), you'd hope it was up to snuff.
The powertrain in the middle of the finished car will be an 800 hp, 590 lb-ft motor hooked up to a 60 kWh battery. That'll get it from 0 to 62mph in less than 4.0 seconds, and over 125mph. Everrati reckons it'll do 125 miles on a charge. You can fast charge it, too, so 20 to 80 percent, given the right charger, happens in 45 minutes. As it stands, the car's still in testing, so there was only 650bhp to play with. For shame.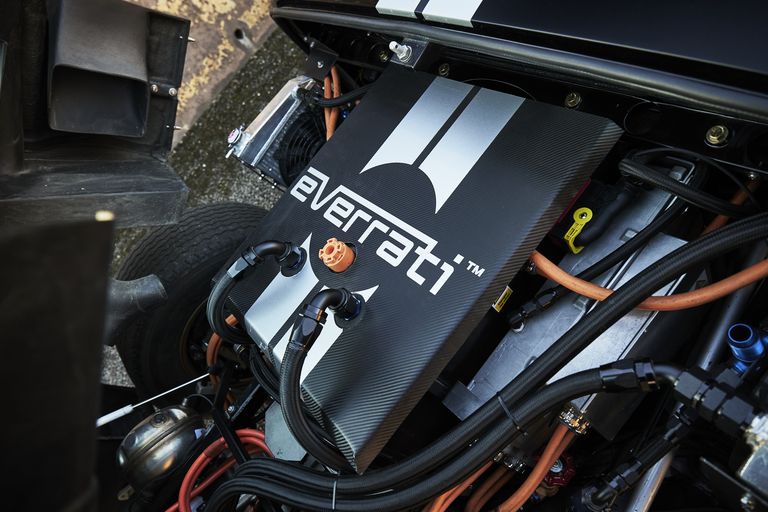 Despite being a new car, it wasn't initially designed for an electric powertrain, so Everrati did the same to the Superformance GT40 as it did to its 911, SL Pagoda, Series II Land Rover and upcoming Defender projects – detailed scanning, measuring, and CAD designing to figure out the kind of space they had to work with. As it turns out, they didn't have much. This lead to an interesting battery solution – they sit in the sills, much as the original GT40's fuel cells did since they won't fit under the floor. Everrati wants its cars to feel nearly identical to the ICE cars it converts, which means weight distribution, power delivery, and even overall weight have to be as close as possible to the original. This is where Everrati's GT40 does rather well – it has a 40/60 F/R weight distribution (a touch better than the '66 MKII's 38/62) and, according to Everrari, it weighs 2910lbs, a full 103lbs less than a fully fueled original.
Dimensionally, it's the same size as an ICE GT40, which means if you're tall you'll struggle to get in. Hell, even at 5'8" getting in requires some gymnastics. Oh, and when you're clambering in or out, look out for the door/roof combo, it's alarmingly easy to smack your head. Once you're folded behind the wheel, Everrati's trim work shines. The dials you'd expect from a GT40 are all there, albeit with an electric twist, pointed towards the driver, away from prying passenger eyes.
The pedal box is tight. There's no clutch, but having the throttle and brake so close together can, if you're lucky enough to have size tens, be a challenge. It may be one of the few cases that makes wearing Puma Speedcats acceptable.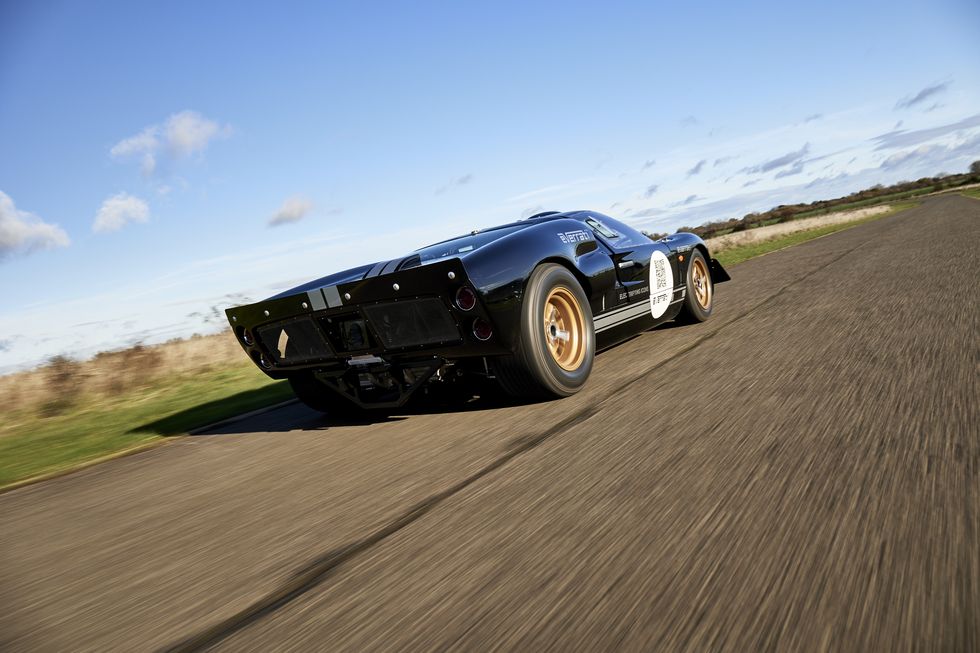 In its current state of development, a little care is needed to take off. The car's various failsafes won't let you peel away in a tyresmokey fashion. Here you need a gentle tickle, and then you can give it the beans. As there's no traction control, brake, or steering assistance, some caution is advised, even on a private test track. Torque and power curves are still being worked on, and at the moment the throttle requires some learning to get the best out of, that said, when you put your foot down by heck it goes. Yes, there's battery weight to contend with, but even in its lower 650bhp spec it flies smooth. There's not quite the visceral shove you get from the 2000bhp hyperEVs, but in reality… that's probably a good thing. Those are violent, unending, and a bit silly. This feels usable. You'll be able to get yourself in trouble with it, but even at this early stage it doesn't feel like it'll bite you. Safe to say, it does the 'EV go very fast' party piece very well.
The prototype's brakes are unassisted, and have been subjected to some abuse. They require strong left calf muscles to get the best out of, but they do the job pretty well.
Everrati's 911 comes with Tractive adaptive dampers, which can adjust the car's setup depending on what you want it to do. You can have your soft and squidgy commuter car, or you have it set up like a hard edged GT3 thing. That'll be coming to the GT40 once the final settings have been decided. For the moment it doesn't ride badly, though it doesn't like lumps and ruts. That's to be expected for, well, a GT40.
Its steering is still in the development stage, too. It's heavy as they come, but it feels decent.
We're a way off seeing the final production car, the firm's refreshingly honest about that. A brief drive shows promise though. It's a new car, not a restomod, and one that appears to be done the right way. Will people go for it? The company says it's had plenty of interest – Silicon Valley types, people who want a classic shape and an engaging drive without the emissions that go with, and more. Everrati's 911 is, no matter where you stand on the EV conversion debate, a pretty great car. Its GT40 is shaping up to be a spectacular one.
Source : Road & Track