Everrati transformed this classic Porsche into a classy EV with equal parts performance and refinement.
by Michael Van Runkle
Back in 2021, the UK-based EV conversion specialists Everrati made waves in the United States by announcing a new project aiming to electrify the iconic Ford GT40. Lost among the resulting outcry, many diehard Blue Oval fans clearly forgot that the GT40, itself, was originally something of a project car based on the Lola Mk6 GT from none other than the UK.
Everrati's GT40 project follows up on the company's original creation: an EV version of the 964-generation 911 from Porsche (another company known for purists who scoff at anything other than their beloved company's original products). Now, the British truly are coming, as Everrati has built an inaugural 964 conversion for US customer-turned-investor Matt Rogers, the co-founder of Nest (now Google Nest). Only a few days before Everrati founder Justin Lunny handed Rogers the keys to his latest creation, dubbed the "Signature" model, he first offered me a chance to take the build for a spin around the streets of Southern California.
An EV That Weighs Around The Same As A Regular 964
Among EV owners and potential EV consumers, battery stats and range estimates earn their fair share of headlines—though for the enthusiast creations that Everrati builds, such concerns certainly come second. Still, this 964's basics sound pretty impressive on paper: a 62-kWh battery sending electrons to a Tesla Model S Performance motor programmed to put out around 500 horsepower. That driveline allows for over 200 miles of range, when driving conservatively, but also maintains the Porsche's original rear-biased weight distribution and somehow, most importantly, altogether tips the scales at only 90 pounds more than a narrow-body internal-combustion 964.
Of course, Rogers and Lunny worked together to land on a widebody Turbo-style design finished in pristine Mexico Blue, with carbon fiber for the rear ducktail-style spoiler and a rear bumper with deleted cutaways for the original flat-six's exhaust tips.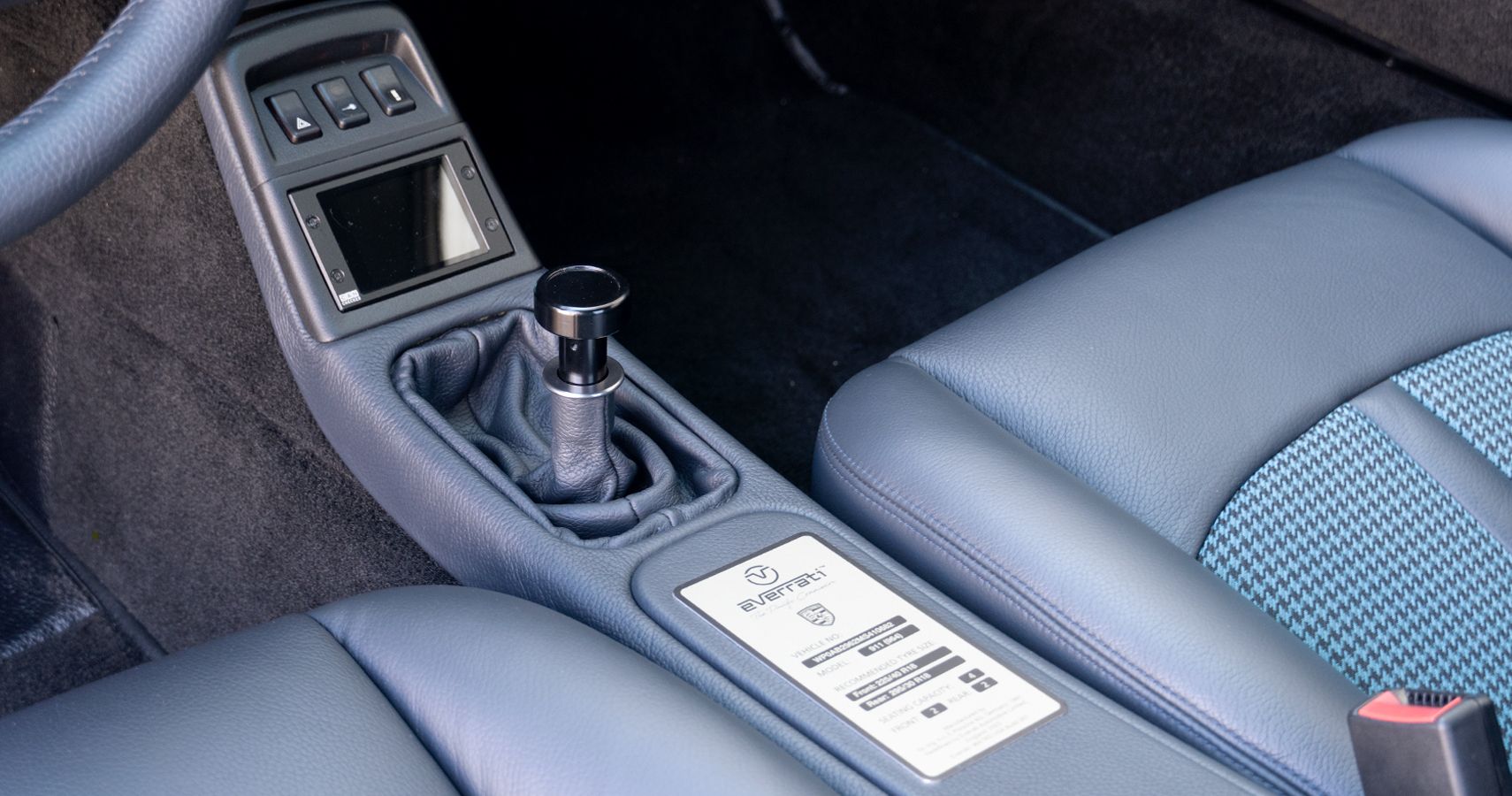 Tactile Touchpoints And A Bit Of Integrated Tech In The Cabin
Porsche purists may lament the loss of that flat-six, which Lunny fully recognizes, but slipping into the revamped interior quickly helps to put such concerns to rest. The key still goes in on the left, the entire cabin is finished in only the finest and most eco-friendly Bridge of Weir leather with Pepita or houndstooth inserts, the dash still sports original switchgear and what looks, at first glance, like original gauges. A tiny touchscreen above the perfectly weighted shifter allows for control of electronically controlled dampers from TracTive, while a Porsche Classic Communication Management system replaces, presumably, an original un-smart Becker radio.
Ingesting New Information From Familiar Faces
The gauges might look familiar, but they do require a bit of an adjustment period. In place of a central tachometer, Everrati installs a contrasting kilowatt dial that reads output and regeneration. To the right of the "tach" sits a speedometer with small configurable digital screen in the lower quadrant, then a classic Porsche analog clock; to the left, readouts for battery charge, voltage, battery temperature, and motor temperature—all behind an original steering wheel, still airbag-equipped but with a center racing stripe in matching blue pepita for good measure.
This Porsche 964 EV Gets Modern Tires For A Modern Drivetrain
Twist the key and no raspy flat-six roars from behind the rear seats (and axle). Instead, a light electric whine starts up, gauges flicker to life, and the car primes for action. I start out slow, wary that I'm behind the wheel of a customer and investor's personal car, which will also serve as something of a testbed for Everrati's electronics. Other EV conversions that I've driven previously also come to mind, so I nudge slowly into the accelerator pedal—can't call it a throttle, can we?—but discover far more modulation than typical of EV on-off switches.
Lunny in the passenger seat seems confident enough, and my comfort level grows with each passing minute. The steering, with a mild electronic assist system, provides just the perfect amount of resistance and certainly tightens up the vague on-center point of most classic cars. Those Michelin Pilot Sport 4S tires, massive for a 964 measuring 295 millimeters wide at the rear, might reduce potential range and efficiency, but in a car that weighs around 3,000 pounds with 368 instantaneously available lb-ft of torque allowing for a 0-60 time as low as 3.8 seconds, the more substantial footprint certainly seems necessary.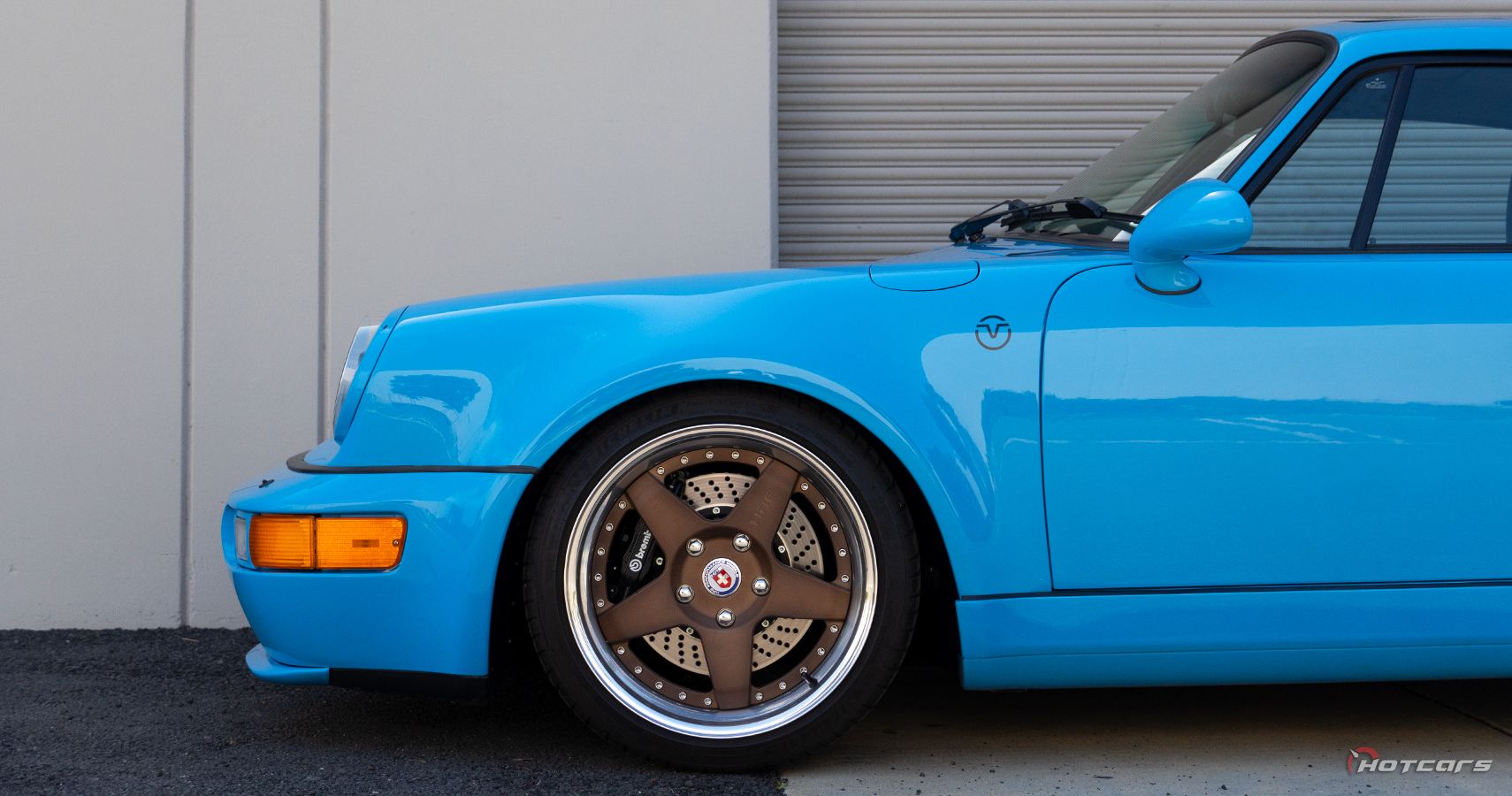 Everrati's Porsche Has A Clear Focus On Refinement
Cruising along the roads from Irvine to the PCH, the wider tires only result in a bit of road noise and surprisingly little harshness over the many imperfections that California's recent storms only worsened lately. I ease into maybe one-quarter throttle and the Everrati perks up, humming along happily at speeds of 45 miles per hour, then 60, then 70. A bit of wind noise develops, mostly sounding to come from the door seals that a more typical Porsche's more typical engine might conceal—we're in an EV but we're talking late-1980s-era weatherstripping here, after all.
All in all, this electric 964 almost approaches the quietude of modern production electrics and simply outstrips any other aftermarket EV conversion I've driven. And Lunny even claims they added only a bit more insulation to help reduce noise, vibrations, and harshness.
But unlike most EV builders who just want brutal acceleration, Lunny repeatedly stresses how hard Everrati works on refinement of the classic-electric experience. The throttle modulation provides the first cue, allowing for plenty of pedal travel and feedback with just enough of a hint of the effortless power available with a bit more of a nudge. The interior experience, from the premium materials to the smooth and quiet ride, further points to those extensive efforts. The word "bespoke" gets thrown about far too regularly these days, but this car, with input from Rogers at nearly every step of the process, truly deserves the term. And hiring the specialists at Aria Group, where we picked up the car in Irvine and which formerly built early Singer-reimagined Porsches, indicates the level of build quality that Lunny and Everrati fully expect their customers to expect.
EV Components In The Futuristic Frunk
Lunny calls the Everrati treatment a "sustainable luxury overlay" that differs from Singer by currently offering multiple marques—Ford via Superformance, Mercedes-Benz "Pagoda" SL-Class, and Land Rover, rather than Porsches only—with more customer concepts well on the way. Up front under the "frunk" bonnet, even the electric battery and inverter components received neat packaging, with the benefit of a slightly deeper, if overall smaller, storage well. The exposed components serve as a reminder of the conversion, with a bit of Back to the Future thrown in for good measure—as if the silence alone isn't enough of a reminder that this Porsche isn't quite a normal Porsche.
Beneath the rear ducktail decklid, similar packaging subtly suggests how much simpler the world of electric vehicles can be, with so many fewer moving parts to worry about. No oil drips in the driveway after a spirited drive, to say the least. I asked Lunny if he considered retaining the original Porsche transaxle for those enthusiast customers who want to row their own gears, but the potential for fried clutches and required maintenance run counter to Everrati's vision of real life with an electrified 964.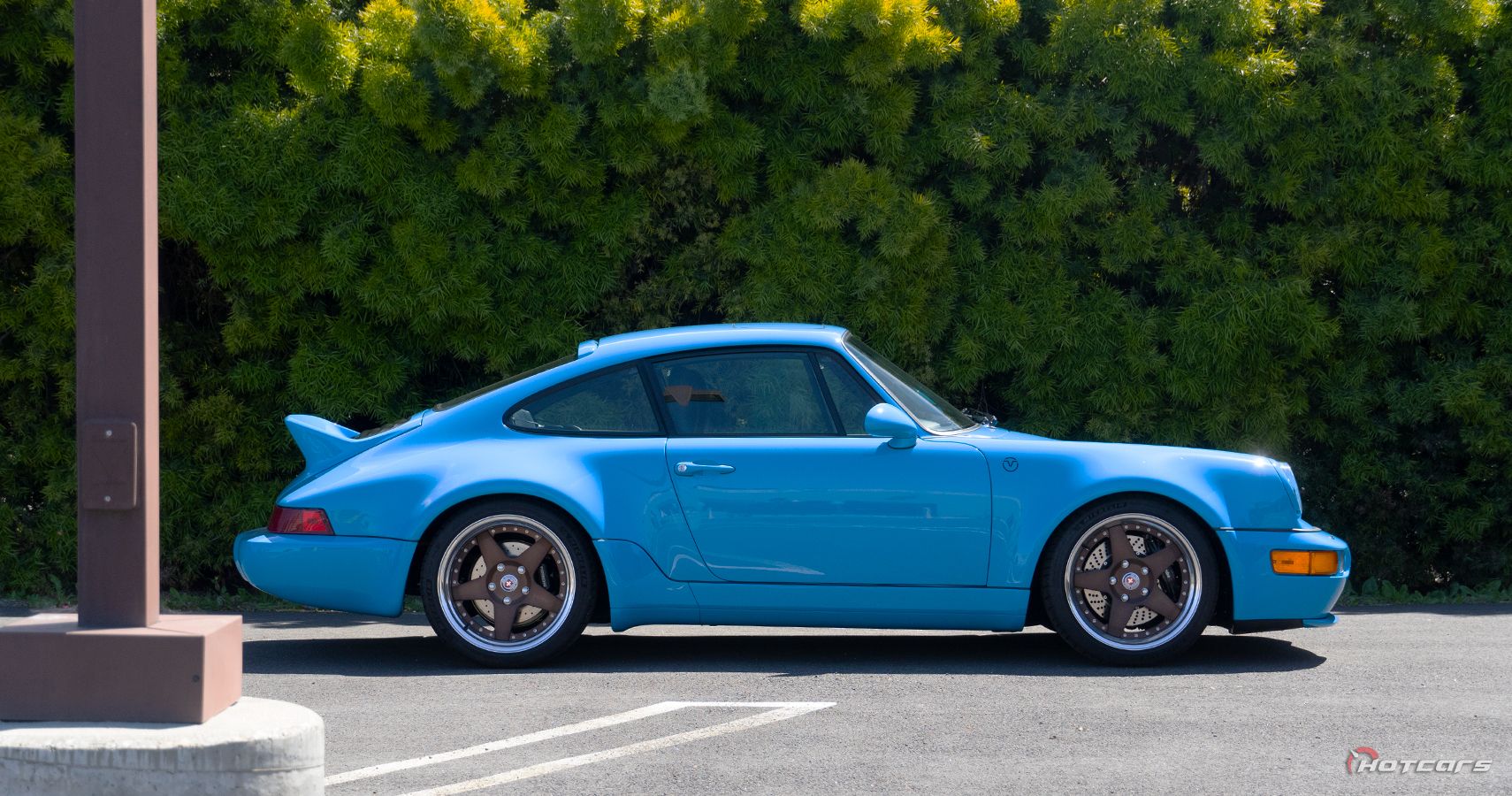 Real-World Electric Range
In terms of real-world driving, Lunny and I took turns behind the wheel for just shy of three hours that ran the gamut from stop-and-go traffic to highway cruising, a canyon or two, and more than a few enthusiastic stabs at the go pedal. By the time we returned to Aria, the digital readout still read 82% charge. Not bad at all for a car that could theoretically weigh even less with carbon fiber used for the front bonnet, roof, and door skins, all of which Everrati offers.
This build, theoretically speaking for a customer-not-turned-investor and not named Matt Rogers, would start at around $340,000 plus the donor 911 and tax, so all the carbon fiber in the world seems appropriate. But the usable range we experienced over the course of the day, as well as combined AC and DC fast charging capabilities, convinced me that Rogers probably could daily this 964 around the Bay Area without much of a concern for constant charging via the ports now hiding beneath the original Porsche fuel door.
The Electric Future Looks Like This
Much of the cost of the build goes into sourcing battery cells from Calb and the Tesla drive unit, but Everrati's GT40 project will use a pair of far more expensive motors that Lotus developed for the Evija hypercar. And the GT40 will also weigh the same, with the same weight distribution, as the original internal-combustion variant. But in contrast to the 964's simpler packaging, the GT40's mid-engine layout and original chassis design (as partner Superformance dutifully follows) will result in far less battery capacity. The performance will outstrip this 964, since the Evija's four motors combine to produce over 2,000 horsepower, but again, all-out straight-line speed isn't the point for Lunny.
Instead, toggle the TracTive dampers to softer settings for daily life and a more accurate representation of 1980s and '90s OEM Porsche suspension, which results in a fun squatting sensation when the little car just scoots along while putting down so much torque. Or firm everything up, front-to-rear and side-to-side, for a bit more of a modern GT3's level of tautness and handling—rest assured, those Michelins and a set of Brembos will help reign in any over-exuberances with ease. And Everrati keeps a firm grip on reality behind the scenes, with generous traction control programming to protect the tires, the car, and their customers.
Best of all, for all the Porschephiles bemoaning the loss of another 964 (a la Singer and the generation's ever-inflated market values), Everrati's modifications allow for 100% removal of the EV drivetrain because the team of former McLaren, Jaguar Land Rover, and Prodrive engineers made sure the conversion bolts right in and requires no cuts to the original chassis. And therein lies the vision that Lunny believes attracted Rogers to Everrati in the first place: a way to keep classic cars alive and running, while finding new enthusiast owners stoked about electrification.
EVs certainly occupy status symbol positioning these days, without a doubt. Did I miss rev-matching near redline? Of course. For myself, I would need an Everrati with a slicktop and definitely wouldn't choose such an eye-catching shade of blue (which has somehow become synonymous with the EV movement). But the 964's original design, something along the lines of a classic 911 with a bumper-pool skirt replacing the infamous "impact" bumpers of the previous generation, probably converts best of all Porsches to an EV in pure design terms. A touch of modern creature comforts—the air conditioning even blows almost too cold but ventilated seats would just put me over the top—plus the satisfaction of analog gauges and precise steering feedback, bolstered seats, and the quintessential Porsche floor-hinging brake pedal (rarely used because the regen does most of the work) all combine surprisingly well. Safe to say, if the electric future looks anything like this and drives anything like this, I might just survive after all.
Source: Hot Cars